The Infrastructure Adaptation Program 
The Infrastructure Adaptation Program helps communities across Canada to reduce their risk of flooding and wildfire through the following areas of focus:
Natural Infrastructure Preservation
Quantifying the economic value of natural infrastructure preservation to limit flood risk
Why Public Sector Entities Must Be Allowed to Include Natural Assets in Financial Statements (June 2021)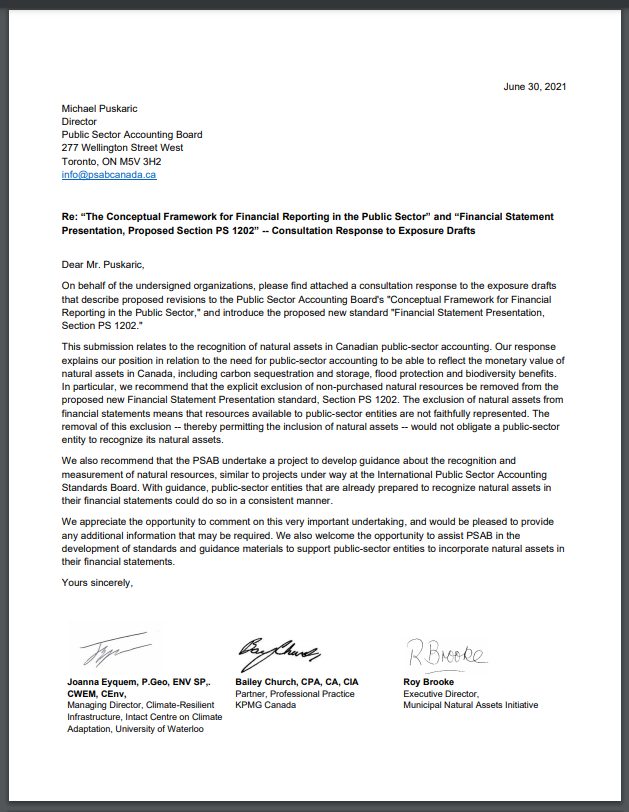 Click here for the joint response to the Public Sector Accounting Board (PSAB), coordinated by the Intact Centre, KPMG and the Municipal Natural Assets Initiative, outlining the need to enable public sector entities to recognize natural assets in their financial statements.
The response was co-signed by 69 key organizations, and submitted to PSAB on June 30, 2021 as part of the consultation on their revised Conceptual Framework.
Click here for additional supporting information submitted to PSAB to provide more detailed information supporting the key points made in the joint response.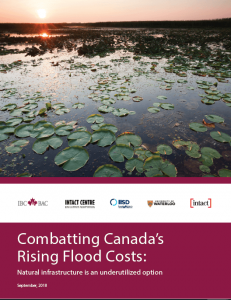 Click here for a report, developed in collaboration with Insurance Bureau of Canada and the International Institute for Sustainable Development, which profiles a framework for assessing the business case for natural infrastructure investment.
Click here for a report infographic.
Key finding of the report is Canada cannot afford to lose more natural infrastructure assets, like wetlands and ponds in its overall effort to limit the growing costs of floods, droughts and other natural disasters.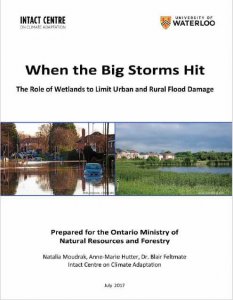 Click here for a report that demonstrates that leaving wetlands in their natural state may reduce the costs of flooding by nearly 40 percent.
Wildfire-Resilient Communities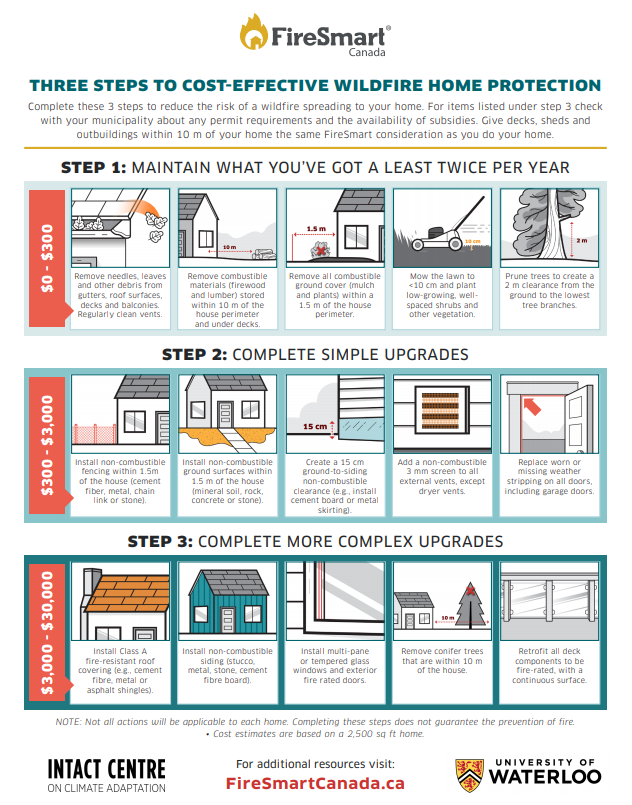 FireSmart Canada leads the development of resources and programs designed to empower the public and increase community resilience to wildfire across Canada. The Intact Centre has collaborated with FireSmart Canada to create a summary of the top actions residents can take to reduce home wildfire risk. To learn more read Three Steps to Cost-Effective Home Wildfire Protection.
Flood-Resilient Commercial Real Estate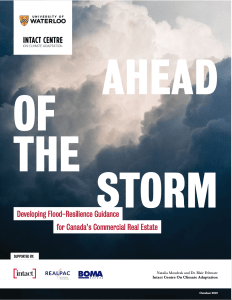 Click here for a report that outlines 20 measures that can be implemented by commercial real estate owners and managers to enhance flood-resilience of existing office towers, thereby reducing the potential for property damage, business disruptions and loss of life.
Click here for a brochure about the report.
Flood-Resilient Communities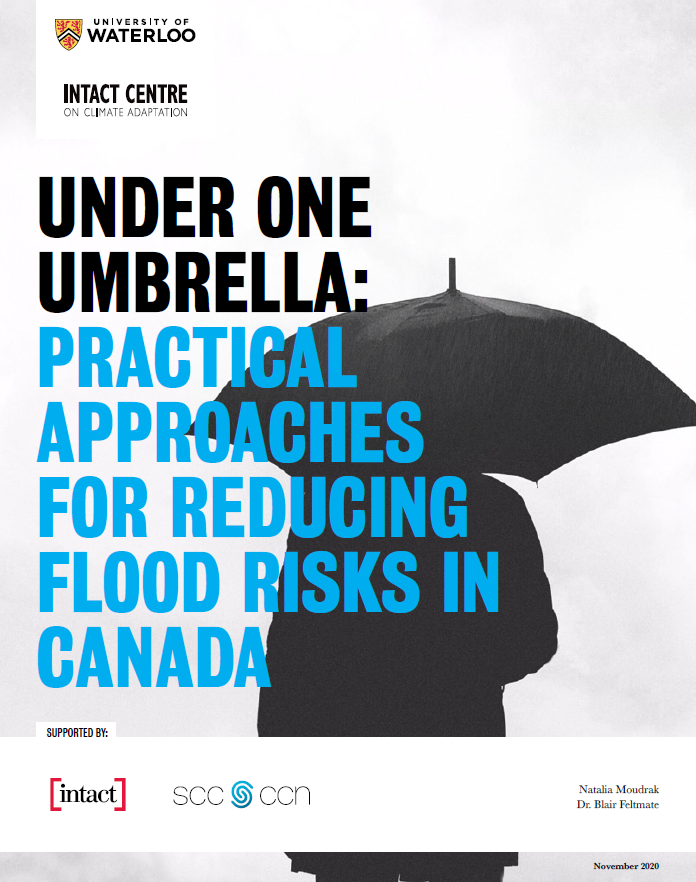 Click here for a report that outlines practical approaches to limit flood risk in Canada, summarizing best practices from national guidelines and standards applicable to: Residents, governments, federal government and agencies, architects, developers, home builders, home renovation specialists, insurance brokers, mortgage lenders, mortgage brokers, real estate agents, home inspectors, retailers, landscaping professionals, commercial real estate owners/managers, conservation and watershed authorities, environmental not-for-profit organizations, neighbourhood associations, local community groups, local utility companies, institutional investors, and professional regulatory bodies.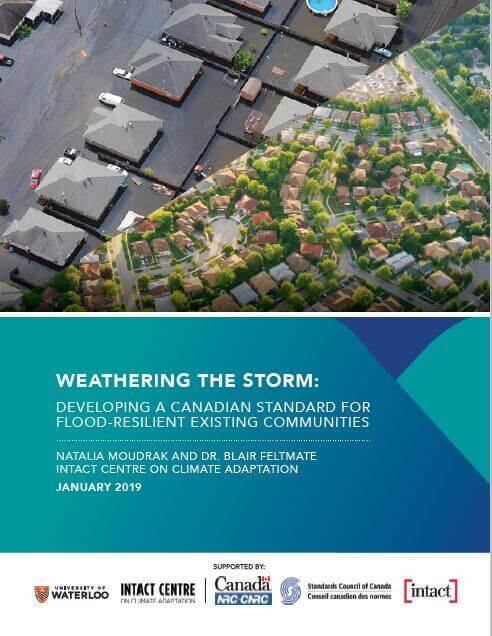 Click here for a report that outlines practical solutions to reduce community flood risk and a new prioritization framework for selecting areas within communities that should be targeted for retrofits. The report will inform the development of a new National Standard of Canada.
Click here to learn more about our collaboration with the Standards Council of Canada and the National Research Council to develop a new National Standard of Canada, based on the report.
Click here for an infographic about the report.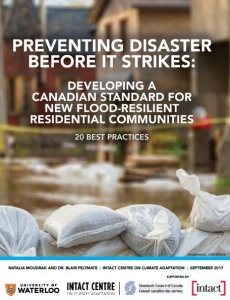 Developing a national standard for building new flood-resilient residential communities.
Click here for a report that outlines 20 best practices to design and build new residential communities that are more flood-resilient.
Click here to learn more about our collaboration with the Standards Council of Canada to develop a new National Standard of Canada, based on the report
Click here for an infographic about the report
Click here for a summary one-pager
Click here to view the published CSA standard based on the report