What is the Home Flood Protection Program?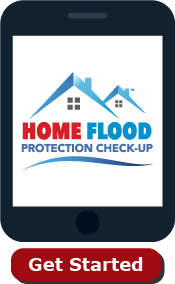 The Home Flood Protection Program is a residential flood risk reduction education program that was launched by the Intact Centre on Climate Adaptation at the University of Waterloo in 2016. The goals of the Home Flood Protection Program are to help residents take action to reduce their flood risk and reduce damage in the event of a flood.
Most homes are at risk of flooding due to increasingly heavy rainstorms and plumbing leaks. Please take a few minutes to complete this Home Flood Protection Check-Up to receive a confidential report that identifies:
Actions you've already taken that may qualify for insurance discounts
Additional actions you can take to reduce risk that will potentially qualify for subsidies and discounts
Links to third-party how-to videos and fact sheets
Assessing and Addressing Home Flood Risks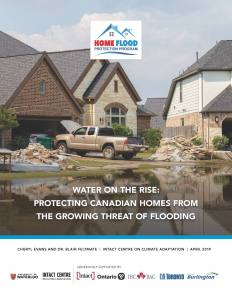 From 2016-2018 the Intact Centre developed and tested a nationally applicable home flood risk assessment tool. Over 500 Home Flood Protection Assessments were completed by the contracted delivery agent, AET Group, in Burlington and Toronto, Ontario as well as Saskatoon, Saskatchewan. Confidential data analysis from assessment reports and participants' follow-up surveys has provided critical insights into the top flood risks at homes, key actions taken to reduce risk after an assessment, barriers to taking action and opportunities to drive additional action to reduce flood risk. For a summary of the program results please see Water on the Rise: Protecting Canadian Homes from the Growing Threat of Flooding, Full Report or Executive Summary, or read the one page infographic which summarizes the key findings.
Helping Canadians Reduce their Home Flood Risk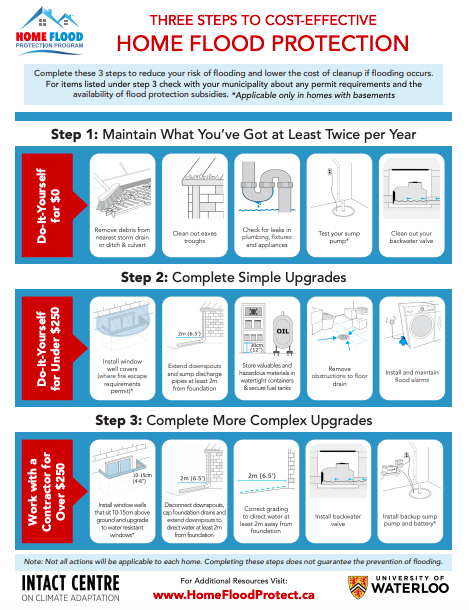 Intense rainfall events combined with aging municipal infrastructure, increased urbanization and a lack of flood protection measures at the household level have resulted in losses in billions of dollars for Canada's insurance companies, governments, homeowners, landlords and tenants over the past decade. The Intact Centre has developed a variety of resources to help Canadians take action to reduce their home flood risk. For a summary of the top actions residents can take to reduce home flood risk read Three Steps to Cost-Effective Home Flood Protection.
✔ Online flood protection resources for residents and flood protection educators – more information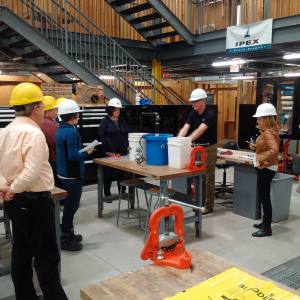 ✔ Home Flood Protection Education Training – Free 1.5 hour online training program for flood resilience professionals such as insurance and mortgage brokers, home inspectors and not-for-profits. Learners receive a wide variety of outreach tools and third-party resources they can use to help raise awareness and support resident action to protect homes from flooding.
✔ Protecting PEI Homes from Flooding and Erosion – Free, 5 hour, self-directed online course helps professionals, community leaders and civil servants to have informed discussions with residents about how to identify their flooding and erosion risks and how to access user-friendly resources that can help them take action to protect their homes. Roughly half of the course content and resources are nationally applicable, making the course valuable to practitioners across the country. The balance of the content features PEI-focused case studies and local resources that are available to help islanders help themselves. This Intact Centre course is being offered by the PEI ClimateSense Program to all interested parties.
✔ Home Flood Protector teacher resources and hands-on activities for students in grades K-12, created in collaboration with Green Learning – more information
Home Flood Risk Assessments:

The University of Waterloo is no longer directly engaged in the coordination of community-based flood risk assessment programs. However, residents can still access home flood risk assessment services through private service providers.
✔ Home Flood Protection Assessments and community-based flood protection education services are being offered by AET Group. Click here to submit your registration request. For more information please contact AET Group: +1 (877)-876-9235
✔ Home Flood Risk Assessment software is being made available to successful graduates of the College Home Flood Risk Assessment training course. A list of successful graduates by province is under development.
Stay in Touch, Stay Informed
If you have questions or feedback about the Home Flood Protection Program or a flood-related story to share, contact Program Director, Cheryl Evans (c8evans@uwaterloo.ca).