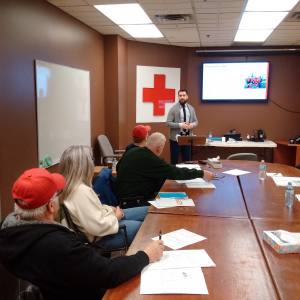 In addition to educating homeowners about how to reduce their flood risk, the Intact Centre on Climate Adaptation has led the development of training programs for a variety of stakeholders, including the Canadian Red Cross, Registered Insurance Brokers, Home Inspectors, Real Estate Agents and more. Currently, the Intact Centre offers a college level flood risk assessment course in partnership with Seneca and Fleming Colleges. The Intact Centre also offers a one hour flood protection seminar for insurance and mortgage brokers, realtors and not-for-profits.
The University of Waterloo partnered with Fleming and Seneca Colleges in 2018 to develop a college-level Home Flood Risk Assessment Training Course. This 14 week online course empowers students from across Canada to help residents assess flood risks at their homes and identify opportunities to reduce those risks through what are often simple and cost-effective solutions. Students also receive flood-risk assessment software that enables them to produce customized home flood assessment reports.
The Home Flood Risk Assessment Training Course is of value to anyone who wishes to understand and support the correction of deficiencies associated with the growing phenomenon of residential basement flooding. At a minimum, the course addresses material that is critical to the professional understanding of those who work in the following professions:
Home Inspectors
Insurance Brokers/Adjusters
Municipal Engineers/Planners
Emergency Managers/First Responders
Real Estate Brokers/Agents
Landscape Professionals
Home Construction and Renovation Professionals
For more information and to register click here.
"The Home Flood Risk Assessment Training Course has given me a better understanding of how to identify factors that influence flood risk for homeowners and property owners… This course is the best way to gain the technical knowledge of the impact of climate change, municipal engineering and practices, government land development policies and building on the risk of flooding to Canadian homes."
– Rhianydd Phillips, Toronto, ON, Recent graduate of the College Level Flood Risk Assessment Course
Additional Requests for Training and Presentations
The Intact Centre offers Registered Insurance Brokers of Ontario (RIBO) accredited courses and additional presentations to interested groups by request. Please contact Daniel Filippi (daniel.filippi@uwaterloo.ca) with your presentation inquiries.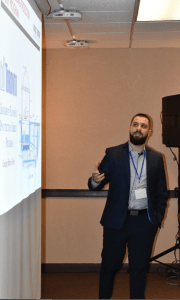 "Thank you again for coming in to speak with our Insurance Management students. It was very informative and engaging. I asked for student feedback afterwards (and they can be very honest) and they all loved the presentation. They mentioned they learned a lot, particularly around the various preventative devices and seeing them in action – such as the sump pump and the backflow valve. John and I picked up a lot of new knowledge as well."
– Kelly Hopkins, Regional Sales Manager, RSA Insurance Group
"Thank you for delivering an informative and engaging session at the 2019 OAHI Education Conference. Your presence contributed greatly to the success of our conference; we appreciate your contribution and the amount of work you put into helping delegates further their careers through education."
– Andrew Dixon, RHI, Vice-president Ontario Association of Home Inspectors (OAHI)
Do you have feedback on our existing training resources or requests for new resources to be added to the page? Reach out to Program Specialist, Daniel Filippi (daniel.filippi@uwaterloo.ca) with your feedback.