See below our recent reports.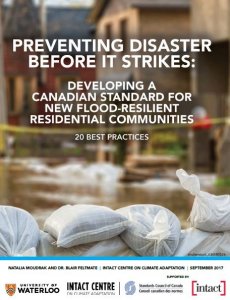 Preventing Disaster Before It Strikes: Developing a Canadian Standard for Flood-Resilient Residential Communities (September 2017): by Natalia Moudrak and Dr. Blair Feltmate. The report outlines 20 best practices to design and build new residential communities that are more flood-resilient. Click here.
Click here for an infographic about the report.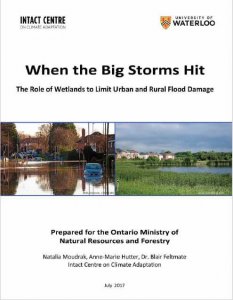 When the Big Storms Hit: the Role of Wetlands to Limit Urban and Rural Flood Damage (July 2017): by Natalia Moudrak, Anne-Marie Hutter, and Dr. Blair Feltmate. The report finds that leaving wetlands in their natural state could reduce the financial costs of flooding by nearly 40 per cent. Click here.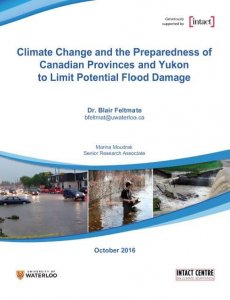 Climate Change and the Preparedness of Canadian Provinces and Yukon to Limit Potential Flood Damage (October 2016): by Dr. Blair Feltmate and Marina Moudrak – a survey of 103 government representatives across 91 provincial and territorial ministries, departments and agencies between December 2015 and April 2016. Surveys focused on the preparedness of provinces and Yukon to limit flood damage relative to current and future major rainfall events. Click here.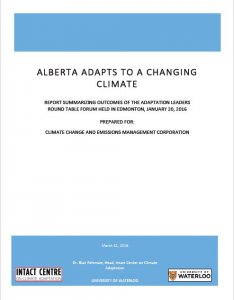 Alberta Adapts to a Changing Climate (March 2016): by Dr. Blair Feltmate – a report prepared for the Climate Change and Emissions Management Corporation (CCEMC), summarizing outcomes of the Adaptation Leaders' Round Table Forum held in Edmonton, January 20th. Click here.